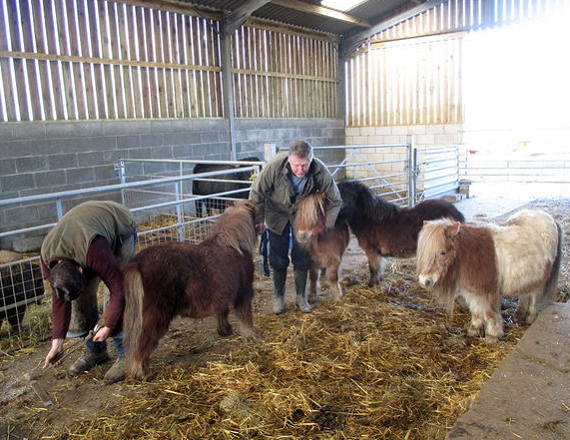 There are four Shetland ponies who live at Lower Campscott Farm and are very popular with our holiday cottage guests.
Here is a formal introduction, in descending seniority and increasing exuberance: firstly there is the old trooper Muffin, next kind and gentle Gypsy, then Tiny (who is just getting over his difficult teenage phase) and lastly Gypsy's foal Pip, who was born last year and promises to fill Tiny's mischievous boots.
It is very important for any horse to have its feet checked over on a regular basis, so last week we had a visit from the farrier. In short, it was time for their horsey manicure. He cleaned, trimmed and looked for any problems that may have occurred since his last visit. Although we expected a little rebellion from the youngsters, – you know who we are talking about Tiny and Pip – on this occasion they were very well behaved, although a cuddle from Tony did help calm any nerves.
We are pleased to report that all their feet were in good health. When we asked the farrier which was his favourite breed of horse he said that although he owned shires who are the giants of the horse world he had a soft spot for the small in stature but big in personality Shetlands. As he was surrounded at the time by four of these "personalities" this may have been tactical voting. We however prefer to think it is because he is a man of great taste.
#holidaycottagesNorthDevon #farmholidaycottages #Shetlandponies