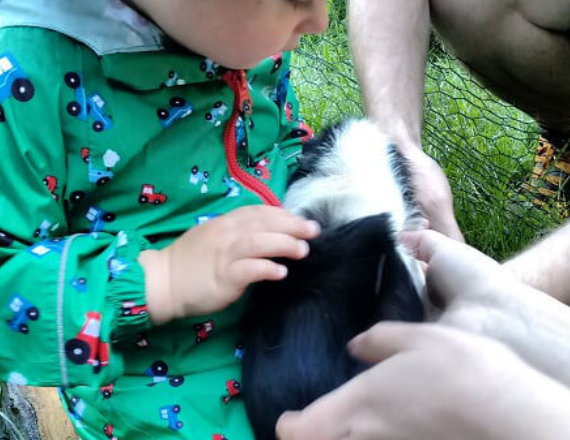 Spring, early summer and autumn are the perfect times for family holidays with toddlers on the farm. Naturally there's a price advantage over the main school holidays but it's also a time when the farm is quieter without the bigger school-age children around so little people can explore and enjoy the farm activities at their own pace. Toddlers, babies and pre-schoolers alike love the interaction with the farm animals at feeding time with Farmer Tony. They love the opportunity to get up really close and stroke the Shetland ponies, feed the sheep and goats, collect eggs and even handle the guinea pigs and rabbits.
Out toddler friendly holiday cottages all have stairgates where needed and many have enclosed decked gardens so you can relax whilst your children are playing. We've lots of items for you to borrow which will save space in the car too – we know how much stuff you can end up bringing with you when travelling with little ones! – including potties, changing mats, socket covers and step up stools. For trips to the beach we can lend you windbreaks, sun shelters, nets and buckets & spades.
It's not always easy to eat out in the evening when you're on holiday with a young child but cooking every day can become a bit of a chore so our farm shop stocks Kathy's delicious homemade meals – Kathy cooks so you don't have to! We also sell wine, local ales and Devon cider for that perfect relaxing night in during family holidays with toddlers.
If you're looking for toddler friendly ideas for days out then do pop in to the farm shop for a chat, we've lots of information on some great toddler friendly holiday activities and the summer farm show at Borough Farm every Tuesday morning is sure to be a hit with even the most discerning toddler.
Find our more about Family Friendly holidays at Lower Campscott Farm.