Farm holiday cottages and lodges offering group accommodation in North Devon, near Lee Bay, Woolacombe and Ilfracombe. Ideal for extended family groups and gatherings.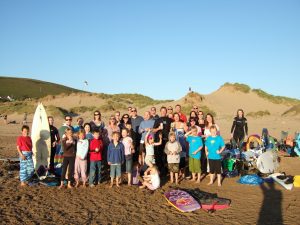 Looking for somewhere to get together and celebrate that special event?
Whether you're reuniting old friends or simply just getting the whole family together for a holiday, one thing is for sure: the logistics of group accommodation can be tricky to manage.
Between struggling to find somewhere that offers the right style of accommodation to suit your tastes and the task of finding the right combination of beds to suit the makeup of your group, it can often be tough to meet every expectation without settling for less. Since we started it has been our goal to try and make this challenge a little less daunting, and it's why we've come up with a more fluid approach – so that you and your group can have the relaxing break you want.
From cosy lodges to quaint cottages, our accommodation varies in size so no matter how many you need to fit you'll find the ideal place for everyone. As part of a group accommodation booking you can have the choice of any combination of our spacious cottages and lodges, so whatever your tastes you'll be well catered for. Additionally, any booking of three or more cottages including Pinetree will give you free (and exclusive!) use of our function room, perfect to act as a staging ground for group activities. It has a fully equipped kitchen which makes it the ideal staging ground, not only for group relaxation but also for large shared meals, and it is the perfect base for any outside catering your group requires. If you feel like this would help make your get together special just let us know that when you book, and we will happily arrange it.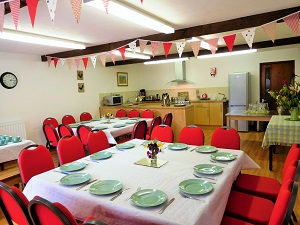 Of course, a group get together is nothing without trips away, and we can offer you a little local knowledge to help make your North Devon trip a memorable one. We're very lucky to be ideally situated for easy access to picturesque walks and idyllic cycle paths, so you can get out into the beautiful North Devon countryside without needing the car. Why not take a walk down the stunning Fuchsia Valley and visit our local pub? Perhaps head a little further on and take in the sea air at Lee Bay? Woolacombe is just down the road and boasts award winning golden beaches, impeccable rugged coastline and some seriously good food and drink – not to mention world class surfing. For the cycling enthusiasts you can be offroad just minutes away from the farm. If you would like to organise an outing, whether it's a fishing boat, a coasteering trip or more we would be happy to help, and we can point you in the direction of one of the many fantastic local organisers.
Things aren't boring closer to home either as you'll also be cordially invited to the daily animal feeding and the farm tour, and even a vintage tractor and trailer ride – ideal for getting children interested in the countryside and getting them to meet the farm animals. Perhaps you want to get out into nature a bit without straying too far from home? Take advantage of our farm nature trail, or feed the ducks in the ponds, or simply take a stroll around the farm and take in some country air. If you're interested in walking further afield, we can also offer you walking maps in our farm shop, as well as some personal advice on some of the best walking North Devon has to offer.
So, whatever it is you're looking for in your holiday, we're sure you'll find it at Lower Campscott. If you're ready to start planning your next group break, or you simply want to enquire further, why not get in touch? We're always happy to help and available via email or phone, and our current availability is viewable on the book now chart. We hope to hear from you soon!!