Come and lose yourself in a haven of peace and tranquillity on our child friendly farm near Woolacombe and Lee Bay where children can explore and play outside all day and you can rest, relax and recharge your batteries.
All our guests are welcome to join in with the farm activities, the daily animal feeding, the tractor & trailer rides and the farm tours; the outdoor and indoor play areas are available for everyone to use as they please.​
Our pets corner houses guinea pigs and rabbits to stroke and enjoy as well as pigmy goats and several very tame chickens.​
Every cottage has a high chair, cot and a stairgate where appropriate – you can also borrow a changing mat, potty, baby bath, loo seat and socket covers if you need them.
Animal Feeding & Farm Tours
Would you like to come and help us with the animal feeding? You'd be very welcome to join Farmer Tony and enjoy a real hands on, child friendly, farming experience helping to feed the sheep, cattle, pigs, goats and the Shetland ponies then collect the eggs from the chickens. The animals need feeding everyday so there will be plenty of opportunities during your stay to be a real farmer! Stay with us at Easter and you can help bottlefeed the baby lambs. The regular tractor & trailer rides are popular with all our guests – both youngsters and adults – so climb aboard for a chug around the farm.
The animals in pets corner love lots of attention too and are definitely on the list for the morning round of animal feeding.
Tony is very passionate about the farm and the farm animals and likes nothing more than showing our guests around and telling them a little about our sustainable farming methods, the livestock we keep, and the breeds we have chosen and why. He also has an endless supply of stories about farming in days gone by. Our weekly tour of the farm also includes a chance to see the wonderful biomass boiler that keeps all our cottages snug and warm and supplies you with endless hot water.
The Farm Nature Trail & Wildlife Meadow
Come and explore the farm and our signed farm trails. The wildflower meadow is a haven for butterflies and is the perfect place for an impromptu picnic where you can watch dragonflies skimming over the ponds.
Follow the circular farm trail as it winds its way around to the bluebell glade and the ponds where ducks and geese visit. You can say hello to the cows and ponies on the way as they graze in their paddocks and count how many different species of birds, butterflies and flowers you can spot.
If you fancy a walk to the beach at Lee Bay or the village pub in Lee there's also a signposted trail across the farm towards Lee Village. The pretty streamside path takes you down through the Fuchsia valley & Yomer woods and on to Lee Bay.
Outdoor Play Area & Indoor Games Room
Our hard play area is just right for ball games and a football kick-about and ideal for youngsters on bikes, trikes and scooters. There are also ride on tractors for younger children. The grassy play area with the swings and slide always prove popular too.
Everyone can enjoy the indoor play area and can get together to enjoy a game of table tennis or pool in our games room whatever the weather!
Our big barn is available from May half term onwards and is perfect for indoor ball games and play on rainy days.
We always have a stock of DVD's or board games to borrow, or you can help yourself to a book from our library.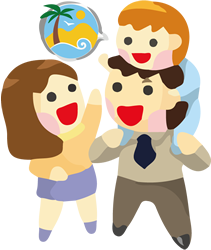 Parent friendly stays