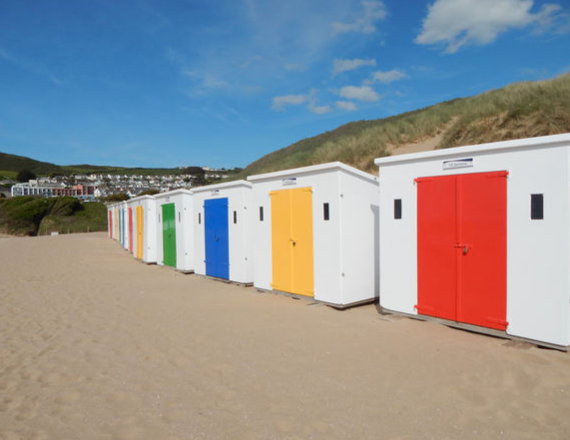 Whilst Lee Bay is within walking distance of Lower Campscott Farm, Woolacombe beach is probably the most popular destination with our guests.
Previously voted number one on Tripadvisor, Woolacombe beach has it all – miles of wonderful golden sand, great for surfing, swimming and stunning views. There are areas where dogs are allowed and for those who love a good stroll you can walk the 2 miles plus from Woolacombe to Putsborough along the beach then return inland along the dunes and Marine Drive. 
There's are 3 car parks in the village close to the beach or you can drive a little way to the South and park along Marine Drive then enjoy a tramp across the sand dunes to the beach where there are usually fewer people so you can often choose a secluded spot all to yourself. This year the Porthole opened on Marine Drive, a lovely new café with public loos and outdoor showers too.
Woolacombe village has a laid back surfing vibe, chill out in the Red Barn or Bar Electric with great views across the Atlantic and where you can watch the sun set over the sea, family friendly The Jube is always popular or grab fish and chips from the Woolacombe fryer to enjoy on the beach. There are plenty of surf shops, gift shops, a post office and grocery stores too. Visit Woolacombe TIC for lots of local information and to hire the all-terrain Tramper for those with mobility difficulties.
If you've always fancied horse riding along a sandy beach with the sun on your face and the wind in your hair then Woolacombe Riding Stables will be pleased to help you fulfil that dream – although sunshine is not guaranteed!!